Lysozyme VDW stereo picture
published: 25 Dec 2007 (20:24)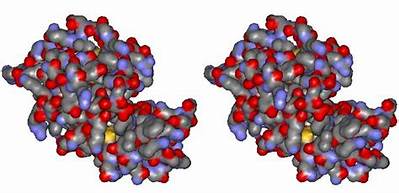 VDW stereo representation of the lysozyme structure. In this view all protein atoms are shown as balls. Carbon; nitrogen; oxygen and sulphur atoms are coloured grey; blue; red and yellow respectively.
News
Lysozome deficient cell has better immunity against Salmonella
By replacing one of the most important soldiers ...
Lysozyme Decrease Diseases Caused by Salmonella
When a hen lays an egg, it gives the egg some ...
---
Other news pages:
1