Lysozyme solid ribbon representation stereo picture
published: 19 Apr 2008 (15:11)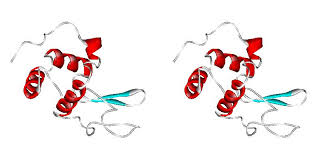 The main chain of lysozyme structure is represented in schematic view - solid ribbon representation. Alpha-helices are shown by red colour; beta-strands are coloured blue and irregular loops are shown by grey rope.
News
Lysozome deficient cell has better immunity against Salmonella
By replacing one of the most important soldiers ...
Lysozyme Decrease Diseases Caused by Salmonella
When a hen lays an egg, it gives the egg some ...
---
Other news pages:
1